How to Buy Waymo Stock Before Its IPO
Published Sep 8, 2023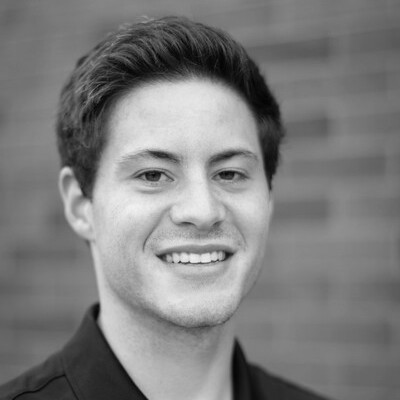 We mention products and services that we think can be helpful for our users. Some or all of them may be from partners who compensate us. This can influence which topics we choose and how products are presented on the page, but it does not affect our opinions or conclusions.
Waymo is Google's self-driving car project and the leader in autonomous vehicles (AVs). Its mission is simple: "to make it safe and easy for people and things to get where they're going."
To date, the company has driven more than 20 billion real-world and simulated miles, and its technology isn't theoretical — it's operational.
Users in San Francisco and Phoenix can use the Waymo app to hail autonomous taxi rides. It's like Uber or Lyft, but with no driver. What's more, Waymo is currently building out the infrastructure to start operating in Los Angeles and Austin.
For users, it's cheap, fast, and safe. Plus, all of Waymo's vehicles are electric and are 100% powered by renewable energy.
In addition to robotaxis, Waymo could be used for public transportation, trucking, and personal vehicles — the applications are limitless.
Every vehicle on the road could become autonomous, which is why the autonomous vehicle sector is expected to grow to $614.9 billion by 2030, and the lion's share of that market will go to just a few players.
Given its market-leading position, it's hard to imagine that Waymo won't be one of them. And for early investors, the returns could be huge.
Here's how to buy Waymo stock in 2023 before it goes public.
Can you buy Waymo stock?
Waymo is a private company and has not made any indication it plans to IPO in the near future. There is no Waymo stock symbol and you can't buy it in your brokerage account.
Waymo has access to plenty of funding (more on that below) and has a backlog of companies that want to partner with it. At this point, there's no need for it to turn to the public markets.
However, if you don't want to wait until its IPO, there is a way you can invest in Waymo stock today.
How to buy Waymo stock in 2023
Accredited investors (individuals with an annual income of more than $200,000 or $300,000 for married couples, or a net worth exceeding $1,000,000 excluding your primary residence) can invest directly in Waymo on Equitybee.
If you don't qualify as an accredited investor, there are a few other ways to invest in Waymo and the AV industry in general.
How to buy Waymo stock as an accredited investor
Equitybee is an investment platform that gives accredited investors access to high-growth, VC-backed startups and private companies, including Waymo: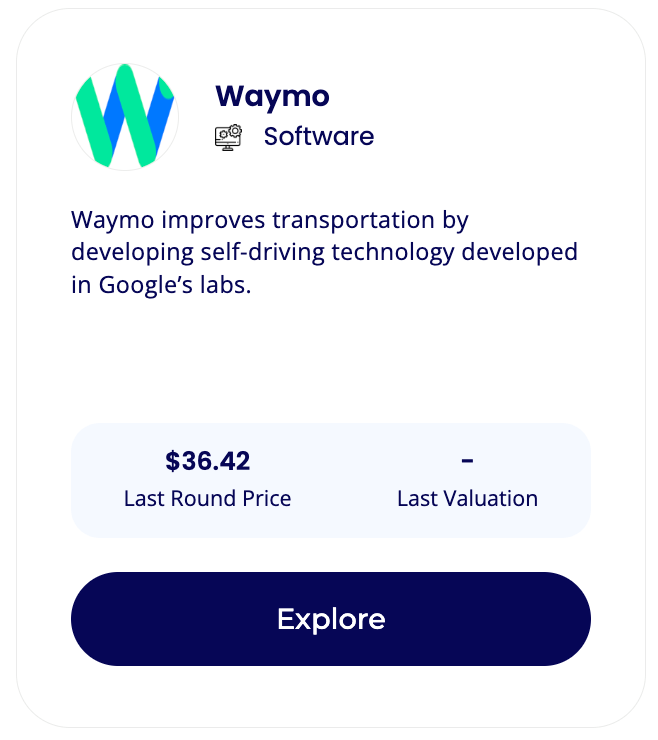 On Equitybee, Waymo is currently selling for $36.42 per share as of the time of this publication.
By funding employee stock options, accredited investors can gain investment exposure to private companies at past valuations, meaning you can buy in at the same valuation as private equity firms paid at the last funding round.
In exchange for funding the options, you will receive a percentage of future proceeds from any successful liquidity events.
How to invest in Waymo as a retail investor
While buying Waymo via Equitybee is only possible for accredited investors, here are a few investment ideas for retail investors that can give you exposure to Waymo or the autonomous vehicle industry.
1. Invest in Waymo's investors and partners
The most obvious way for a retail investor to invest in Waymo is via an investment in Alphabet (GOOGL), Google's parent company.
Based on my estimates (math in a later chapter), Google likely owns ~82% of Waymo. At a valuation of $30 billion, that stake represents a $24.6 billion investment, which sounds large but makes up just 1.4% of Google's $1.71 trillion business.
Still, if Waymo becomes a dominant player in the AV industry, it could become an increasingly important part of Google's conglomerate.
AutoNation (AN) is another public company that owns a stake in Waymo. AutoNation has participated in two of Waymo's funding rounds, though its exact stake is unknown (likely a few hundred million).
Additionally, AutoNation has a partnership with Waymo that involves Waymo vehicles delivering parts to AutoNation locations and other repair shops in Arizona. I wouldn't be surprised to see this partnership become much larger in years to come.
Given AutoNation's relatively small market cap (~$7 billion), there's potential that Waymo could have an outsized impact on its business.
Waymo has additional partnerships with multiple vehicle manufacturers and ride-hailing companies including Stellantis (STLA), Mercedes-Benz Group AG (MBGYY), Lyft (LYFT), Avis, Intel (INTC), Jaguar Land Rover, and Volvo (VLVLY).
2. Invest in publicly traded competitors
Given the AV industry's potential, there are a few Waymo competitors you could consider:
General Motors
While Waymo is currently considered the leader in self-driving cars, Cruise is not far behind.
Cruise is the self-driving unit of General Motors (GM) and also has fully operational robotaxis in several cities.
Tesla
Another major competitor in AVs is Tesla (TSLA), which released Autopilot, its self-driving feature, seven years ago.
Teslas are equipped with the necessary hardware and software to function autonomously but are not yet approved to drive themselves because of safety concerns.
All self-driving features are currently labeled as "hands-on" driver assistance.
Learn how to buy Tesla stock here.
Uber
Ride-hailing companies Uber (UBER) and Lyft (LYFT) are also working to develop their own autonomous vehicle technology. While Waymo has a head start, Uber has an existing network and a massive list of users.
In 2018, Waymo sued and won a case arguing Uber stole some of its technology. If Uber can't build the technology on its own, I would expect a partnership or licensing agreement with Waymo.
Additional options
Additional competitors include Aurora, Nuro, Luminar Technologies, and Motional.
Yet although there are many competitors, Waymo is by far the most established.
What does Waymo actually do?
Waymo was founded in 2009 as the Google Self-Driving Car Project.
The company designs and builds the hardware and software required to make autonomous vehicles. The hardware includes sensors, cameras, radar, and more.
Unlike Tesla, Waymo does not plan to build its own vehicles, instead partnering with car manufacturers so it can focus on its technology. All of Waymo's cars are electric, so Google may be interested in investing in Redwood Materials.
In addition to the hardware and software involved, Waymo must create the infrastructure required to operate in a new city. This involves mapping out the territory, such as intersections, turn lanes, curbs, crosswalks, and more.
While the technology can operate solely from its real-time sensors, this added layer of infrastructure and data makes each route much safer.
It's worth noting though that a Waymo vehicle can plot a new territory and upload the plot to its network for all vehicles to use by using its sensors.
Does Google own Waymo?
In March 2020, Waymo raised $2.25 billion at a valuation of ~$30 billion. This implies Google sold about 7.5% of its stake in Waymo, leaving it with 92.5% ownership.
Waymo raised an additional $750 million in May of 2020 and another $2.5 billion in June of 2021, though no valuation figures were released.
If we assume a $30 billion valuation at both of these rounds, that would imply Google sold another 10.8%, reducing its ownership to 81.7%.
In addition to Alphabet (Google's parent company), investors include T. Rowe Price (TROW), Magna International, Silver Lake, Canada Pension Plan, Tiger Global Management, Andreessen Horowitz, Fidelity, Perry Creek Capital, and AutoNation (AN).
Google has another company, Wing, which uses similar techonology as Waymo. It is an autonomous drone delivery business. If that business interests you, you can invest in Zipline stock, Wing's primary competitor, on Equitybee.
How to buy the Waymo IPO
Waymo has made no indication of any plans to IPO. However, if you want to invest in it when it does go public, you'll need a brokerage account.
If you don't have a brokerage account, we recommend Public.
On Public, you can Invest in stocks, ETFs, treasuries, and cryptocurrencies, all on one of the most well-designed investing platforms.
Waymo valuation chart
Here's a look at how Waymo's valuation has changed over time: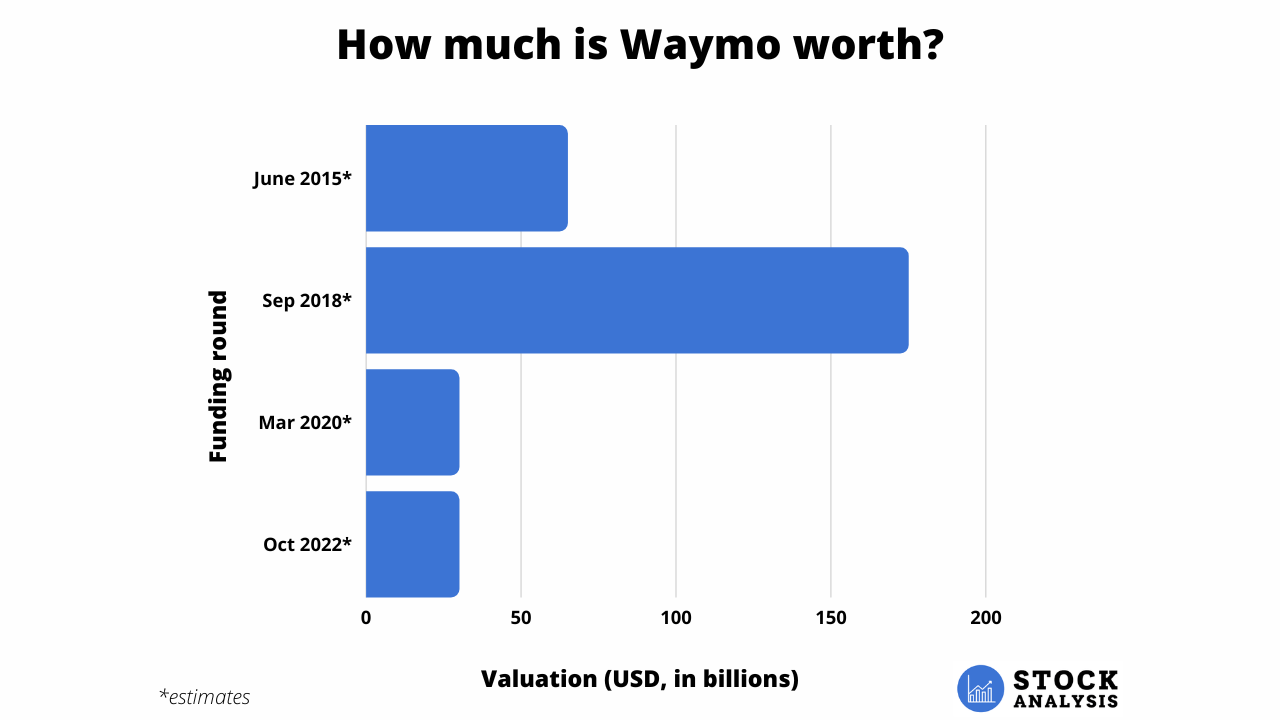 After peaking at $175 billion in November of 2019, the valuation was cut to just $30 billion by March 2020, where it still stands today.
The cut was due to the commercialized product taking longer than expected to develop.
However, the company's recent success in San Francisco and Phoenix has likely put much of these fears to rest and I expect future funding rounds will be raised at significantly higher valuations.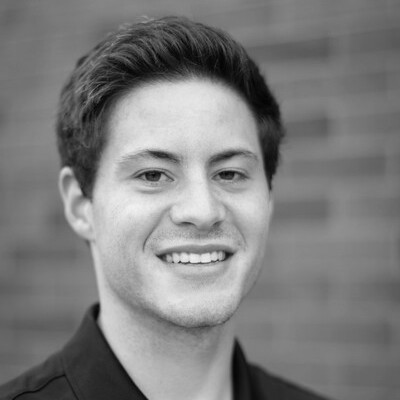 Written by
Investor and Finance Writer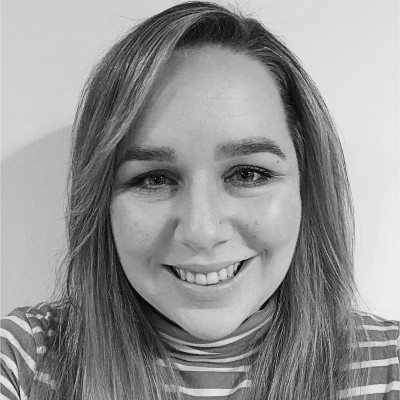 Edited by
Head of Content at Stock Analysis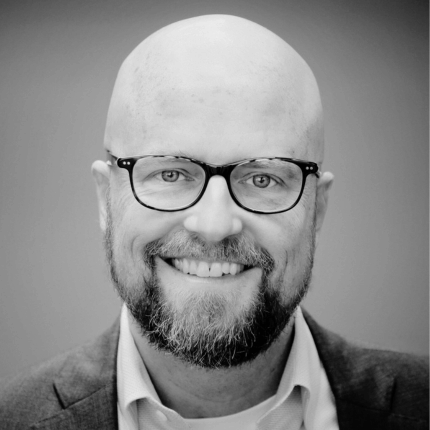 Reviewed by
Chartered Financial Analyst