How to Invest in OpenAI (ChatGPT)
Published Nov 15, 2023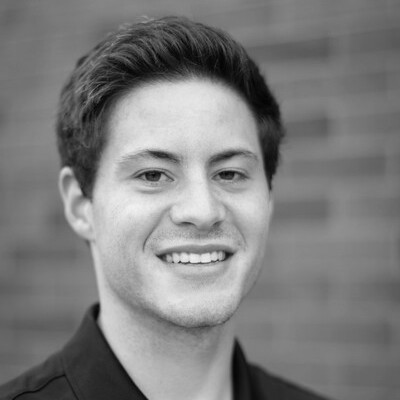 We mention products and services that we think can be helpful for our users. Some or all of them may be from partners who compensate us. This can influence which topics we choose and how products are presented on the page, but it does not affect our opinions or conclusions.
OpenAI is a company that is developing artificial intelligence (AI).
In November 2022, they released ChatGPT, an AI chatbot based on a large language model (LLM) that can generate detailed and human-like responses to user queries.
ChatGPT quickly went viral, shattering user growth records and reaching 100 million users in just two months. The launch of this tool has ushered in a new wave of development in artificial intelligence all over the world.
OpenAI also offers an API for developers, which is being used by start-ups and companies all over the world to add AI capabilities to their applications.
In addition, they have other products like Dall-E, an AI system that can create images and art from a text-based prompt.
OpenAI's main mission is to develop artificial general intelligence (AGI), which is the type of AI that can learn, think, and solve tasks like a human.
Even though OpenAI is not a public company yet, there are some ways to invest in it in 2023.
Can you buy OpenAI stock?
OpenAI is not a public company and cannot be bought in your typical brokerage.
There is no OpenAI stock symbol because it's a private company that hasn't yet made its shares available to the public via an initial public offering (IPO).
And, based on its mission, revenue trajectory, and the number of venture capital funds that want to own a stake, it may not ever need to go public.
Fortunately, you don't need to wait for it to go public to invest in OpenAI and ChatGPT. But the best approach depends on whether you are an accredited investor or a retail (regular) investor.
Are you an accredited or retail investor?

You qualify as an accredited investor if you meet one of the following criteria:

You have an annual income of $200,000 individually or $300,000 jointly
Your net worth exceeds $1,000,000 (excluding your primary residence)

If you're an accredited investor, the next chapter is for you. If you don't qualify as an accredited investor, skip to the following chapter, which is for retail investors.
How to buy OpenAI stock as an accredited investor
Equitybee is an investment platform that gives accredited investors access to high-growth, VC-backed startups and private companies, including OpenAI: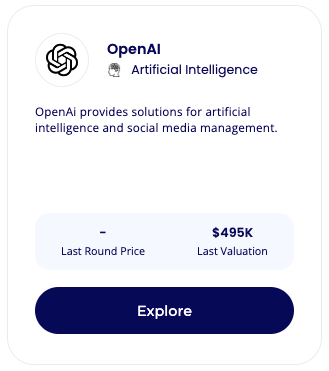 By funding employee stock options, accredited investors can gain investment exposure to private companies at past valuations (meaning you can buy in at the same valuation as private equity firms paid at the last funding round).
In exchange for funding the options, you will receive a percentage of future proceeds from any successful liquidity events.
As of the time of this writing, there are no shares available, but when an employee wants to liquidate their stock options, you may have the opportunity to invest directly in OpenAI.
Click here to view the current offerings for OpenAI.
Worth noting, OpenAI isn't the only artificial intelligence company listed on Equitybee. There are 14 other private AI-related companies you may be interested in. Here are a few of them: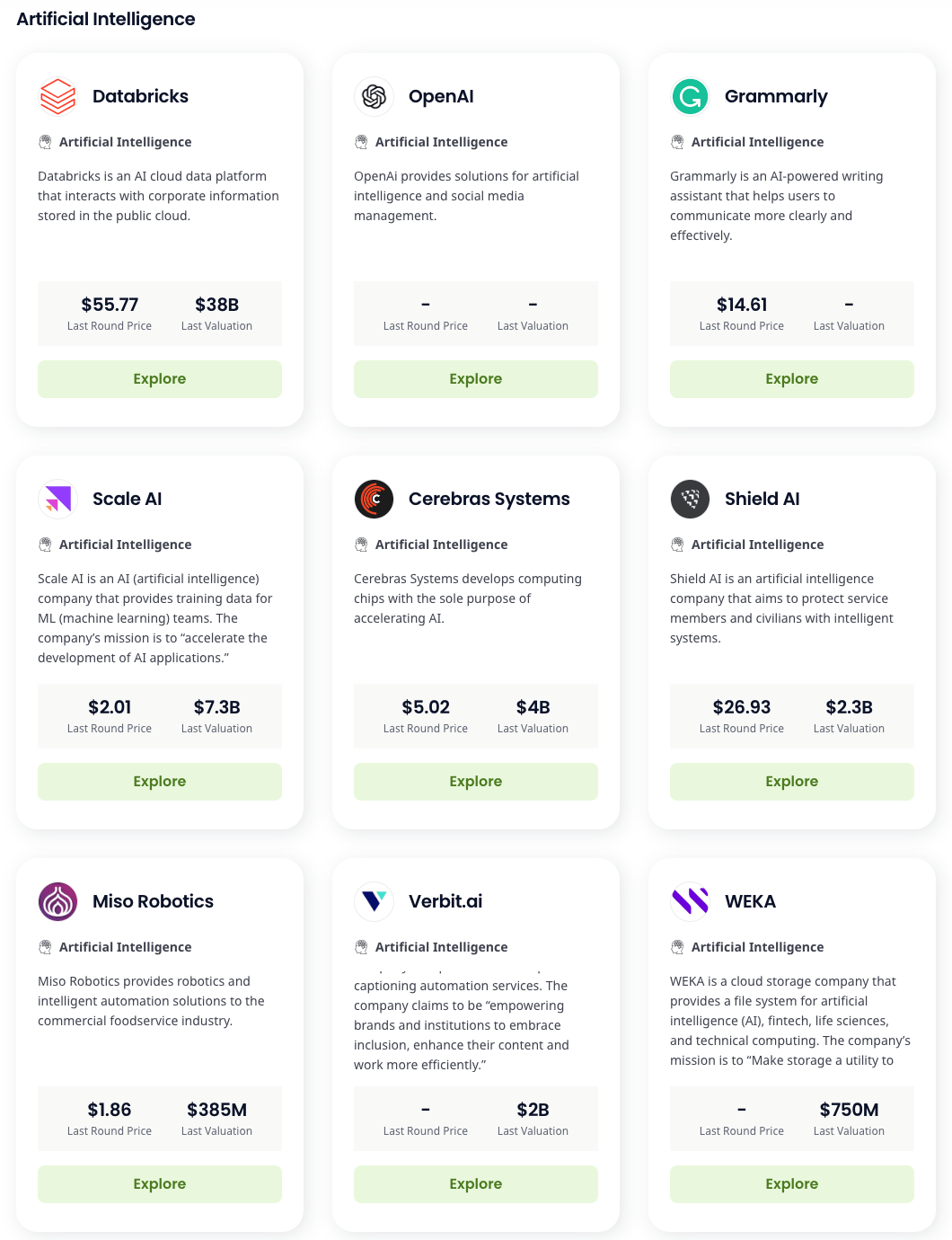 How to invest in OpenAI as a retail investor
The best way for retail investors to gain exposure to OpenAI is to buy Microsoft (MSFT) stock.
To date, Microsoft has invested $11 billion in OpenAI. It now owns 49% of the company and is entitled to up to 75% of its profits.
Microsoft's first investment came in 2019 and totaled $1 billion. Then, Microsoft invested another $10 billion in early 2023. This stake is now worth ~$40 billion.
Buying Microsoft stock is the simplest way for investors to gain exposure to OpenAI since it can be purchased in any stock brokerage account. But there are a few things to keep in mind.
On the one hand, Microsoft's $2.75 trillion market capitalization will be relatively uninfluenced by its 49% stake in the ~$80 billion startup, unless OpenAI ends up becoming much bigger than it is now.
On the other hand, Microsoft has already begun integrating OpenAI's technology into many of its core products (such as Office, Windows, GitHub, and Bing). These integrations are collectively known as "Copilots."
The best example of this is GitHub Copilot, which costs $10–20 per month and has surpassed one million paid users just 18 months after launch.
According to Microsoft's 2023 annual report, GitHub Copilot is "fundamentally transforming developer productivity, helping developers complete coding tasks 55 percent faster."
Furthermore, Copilot will be rolled out to Office 365 in the near future, of which there are 345 million paid members. I don't think it's overstating it to say that Microsoft, thanks to OpenAI, is in a league of its own regarding AI and AI integration.
Microsoft is planning to sell each Office Copilot subscription for $30 per month, on top of existing prices. Assuming this increases employee productivity, even by just a few percentage points, these will be no-brainer investments for businesses.
If 100 million users pay for a Copilot, that will add $36 billion in annual recurring revenue to Microsoft's top line, or an increase of about 18% above its current revenue of ~$200 billion.
Microsoft's Azure is also the second biggest cloud computing provider (after Amazon) and a lot of the computing for AI applications is likely to happen in the cloud. This could help support the long runway of continued revenue growth in their cloud segment.
Other ways to invest in AI
Even if there is no direct exposure to ChatGPT or OpenAI, there are many more ways for investors to gain general exposure to the growth of AI.
Invest in NVIDIA
One company you should consider investing in to ride the AI wave is Nvidia (NVDA).
Since bottoming in October 2022, shares of NVDA have rallied more than 300%, largely due to AI demand.
Nvidia has a dominant market-leading position in developing the chips used to train and run supercomputers and high-powered AI networks.
It also provides the best "entire package" of AI-enterprise products, complete with hardware, software, and supporting services. Its data center revenue growth surged $10.3 billion last quarter, up 171% YoY.
If you're bullish on the future of AI, it's hard to imagine a world where Nvidia isn't much bigger than it is right now.
Unfortunately, you won't be alone in this sentiment. Shares are trading at 58x next twelve months forecasted earnings, and over 100x trailing twelve months' earnings.
Invest in TSMC
Most of the chips that are being built to satisfy the demand for AI applications are made by Taiwan Semiconductor Manufacturing Company (TSM).
For example, all of NVIDIA's advanced AI chips are manufactured by TSMC.
If the demand for AI computing continues to grow, then TSMC is likely to be one of the main beneficiaries.
Invest in other companies with AI exposure
Here are a few other tech companies with exposure to AI:
Alphabet (GOOG, GOOGL): Google has invested heavily in AI for years and may be the biggest beneficiary from AI-powered search. Their Bard chatbot is also one of the biggest competitors to ChatGPT, plus the Google Cloud Platform will likely be running a lot of AI applications in the future.
Amazon (AMZN): Amazon runs Amazon Web Services (AWS), which is the world's biggest cloud computing provider. A lot of future AI computing is likely to be run on their servers.
Meta Platforms (META): Meta's artificial intelligence lab (Meta AI) was launched in 2013. Since that time, Meta has poured billions of dollars into developing generative AI, computer vision, and human speech processing technologies.
Invest in exchange-traded funds
And here are 5 ETFs investing in similar technology:
How to buy the OpenAI IPO
Although no OpenAI IPO date has been set, you'll be able to look up its stock symbol and buy it in your brokerage account if/when it goes public.
If you don't have a brokerage account, we recommend Public.
On Public, you can Invest in stocks, ETFs, Treasuries, and cryptocurrencies, all on one of the most well-designed investing platforms.
Who owns OpenAI stock?
OpenAI began with an initial seed funding of $50 million from Elon Musk, who was a co-founder of the company but left in 2018.
The lab has raised a total of about $11.3 billion from 15 investors over seven funding rounds, with the vast majority of that funding — $11 billion — coming from Microsoft.
In April 2023, OpenAI raised $300 million from Thrive Capital, SVA, Andreessen Horowitz, Founders Fund, Alphabet, Wisdom Ventures, K2 Global, Sequoia Capital, and Tiger Global Management. The round valued the company at around $28.7 billion.
In October 2023, Thrive Capital announced it was leading another deal to purchase OpenAI shares from employees via a tender offer, valuing the company at $80 billion or more, or almost 3x more than the transaction that took place 6 months earlier.
Does Elon Musk own a stake in OpenAI?
While Elon Musk was a co-founder and originally invested $50 million to start the lab, he sold his stake to Microsoft and left the company in 2018.
Musk had reportedly committed $1 billion in support before pulling out over disagreements about the speed of OpenAI's advancements. He has also repeatedly criticized the lab for not placing enough emphasis on safe AI development.
Still, Musk said he's "the reason that OpenAI exists," and has had several spats with CEO Sam Altman. In April 2023, Musk incorporated X.AI, a rival AI firm.
OpenAI valuation chart
Here's a look at OpenAI's valuation history: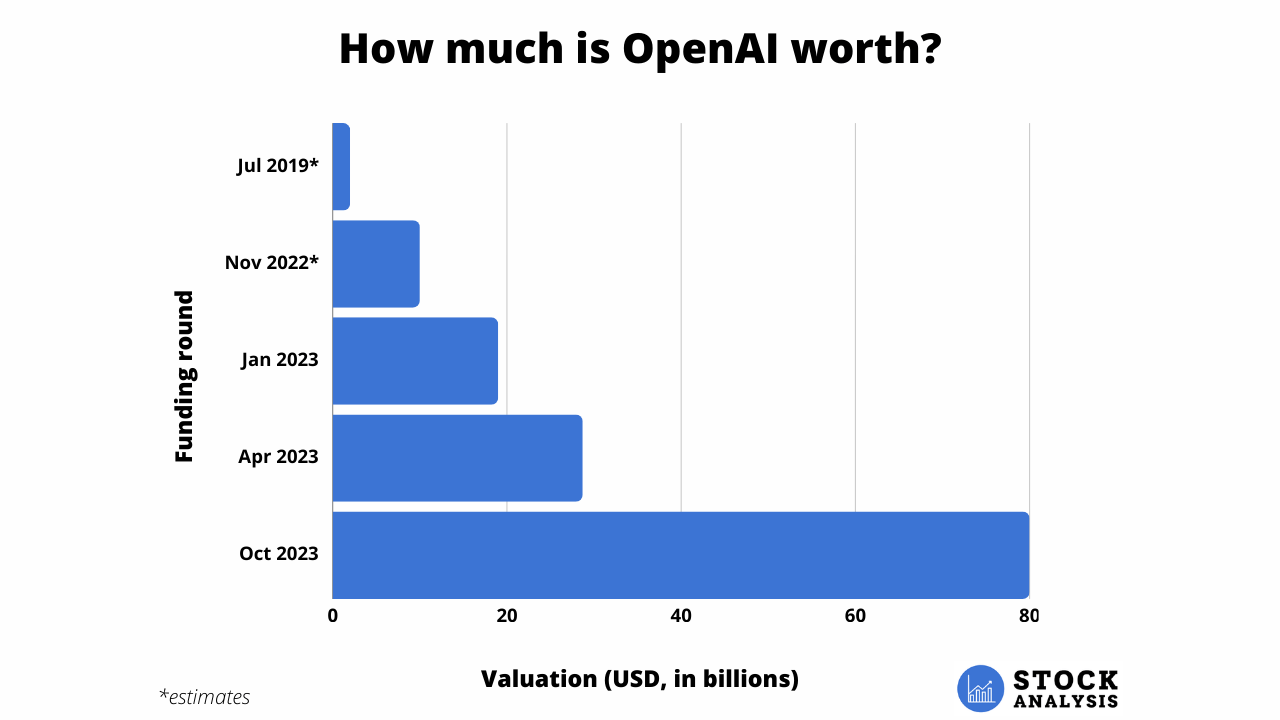 Its $80 billion valuation makes it the third most valuable private company in the world, behind only ByteDance (the parent company of TikTok) and SpaceX.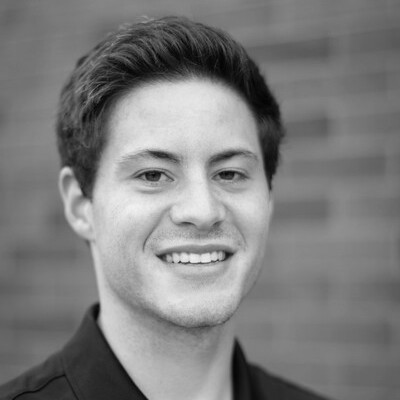 Written by
Investor and Finance Writer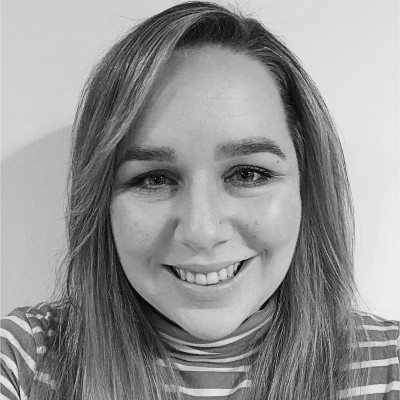 Edited by
Head of Content at Stock Analysis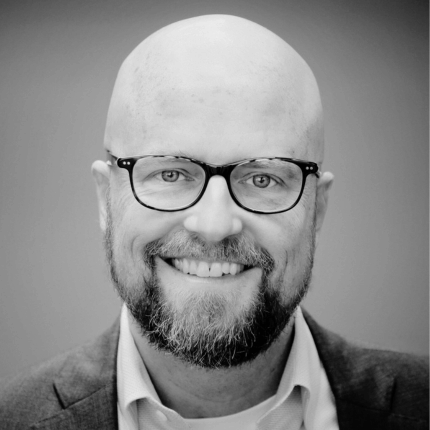 Reviewed by
Chartered Financial Analyst